Let's Put Your Website to Work with Strategic Web Design
Your website is the first point of contact your prospects make — and often it's the only one. So it should be built as a potent marketing and sales tool. As an expert digital marketing agency, we learn about your company and work with you to establish the right website design, imagery, media, and messaging.  We perform website design to make an irresistible path to convert your visitors into customers. That means higher quality leads — and more of them.
In today's digital world, nearly all companies need a website. Websites serve as a virtual salesperson 24 hours a day, 7 days a week. If your site isn't responsive, mobile-friendly, is out of date, doesn't convert guests, or just doesn't meet your standards, you need professional web development services from a local digital company that makes having your website painless.
We want to design a custom website for your business. Our full-service agency is positioned to deliver a high-quality site. A site that will not only drive sales but using your branding will present your company as the go-to professionals in your industry. Our award-winning team of designers specializes in WordPress designs to improve your ROI.
Website Design & Development Experts
Your company's site is possibly the most valuable advertising tool, and if the organization isn't growing, then it's time for a new one. Focused Idea produces highly refined websites designed for powerful search engine performance and high-end professional design and user experience aesthetics.
User Experience Design
The most important elements of any website are the navigation and user experience design. We provide custom designs that seamlessly meet the requirements of your website visitors and your marketing goals. Our design professionals take time and care to research your industry. They work to understand your customers' needs. We construct our sites for results, and we focus on creating clean, simple, and compelling sites.
Content Management Systems
Our websites are built using WordPress. It is the most robust content management system platform available. We customize every website's backend capabilities so that managing, editing, and publishing is a pleasure, not a chore. We build each site to handle your competition and shine in aggressive search engine optimization markets with ease. When we partner with you, your company will have a solid online presence.
Maintenance & Support
Our maintenance team can continue to be a part of your marketing staff. We can expertly maintain your website and CMS with monthly software and plugin updates, daily off-site back-ups, security reviews, and device compatibility updates to source code. We'll send you monthly reports on how your site is performing and the updates that were made. We are also ready to help with your administrative and technical support.
APPLY FOR A FREE WEBSITE ANALYSIS
SOME OF OUR CUSTOMERS WEBSITES
WHAT IT TAKES FOR A SALES-DRIVEN WEBSITE DESIGN
Do you ever wonder why your competitors outperform you? It might have something to do with their site and what's on it.
Your site must be visible

— by visible, we mean to the search engines like Google. More than 90% of online actions start with a search engine, so your site ought to be built for the best search engine optimization (SEO) practices. By choosing our agency, you're guaranteed to have a website optimized for SEO.
Your web site must be mobile-friendly — 57% of all U.S. internet traffic comes from smartphones and tablets, and more than half of all users say they won't recommend a business with a poorly built site. If this isn't enough to persuade you, Google also ranks mobile websites higher in searches.
Speed is essential — people coming to your website need to see something happening in less than three seconds. If not, 40% of them will leave and go to another web site. Even a one-second delay could lead to a 7% reduction in conversions.
Your website must be secure — lately, data breaches and stolen consumer information have been a big topic of discussion — and the people who come to your website know this. If your website has any place where someone can fill out personal information (even if it's only a phone number and an email address) it must be secure in the SERP, Google also gives preference to secured websites.
Your website must be amazing for users — People form an opinion in 0.5 seconds after loading your page. They expect to find information easily and swiftly — especially on a smartphone or tablet.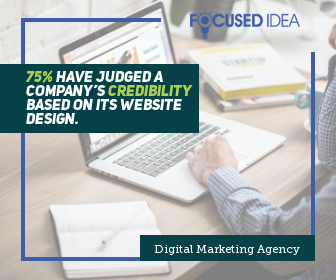 WHAT CLIENTS HAVE TO SAY?
Absolutely loved working with Brian!!! He made the entire experience easy and smooth. His knowledge base and willingness to get things right are very valuable in any business. He was also honorable and let me know in advance if something could change the budget or not, so that, I could make the best decisions for the project. Our entire team LOVED the new format, layout, and EVERYTHING!!! Brian was able to anticipate what would look good and synergistic. I definitely recommend him and his qualified team of experts for any job! An all around AWESOME experience!
Focused Idea does a great job with our website! We look forward to using them on our next website construction! Quality of work is amazing, and they respond to our questions very quickly. We would highly recommend!
I have sent a number of clients to Focused Idea. Brian and his staff take great care of them and their needs. Focused Idea has great expertise in many areas of digital and conventional marketing. What I like best about working with them and why I continue referring customers to them is they are honest about what they can do and have told me when a project is outside their skill set. This is refreshing in an age where other business will lead you to believe they can do everything, even when not true. The honesty and integrity displayed by Focused Idea is impressive.
Focused Idea has been a life saver on many occasions. They are by far one of the best digital marketing partners I have ever worked with. They continue to point us in the right direction as online marketing continues to change at lightning speed. Without these guys I don't know what I would do.